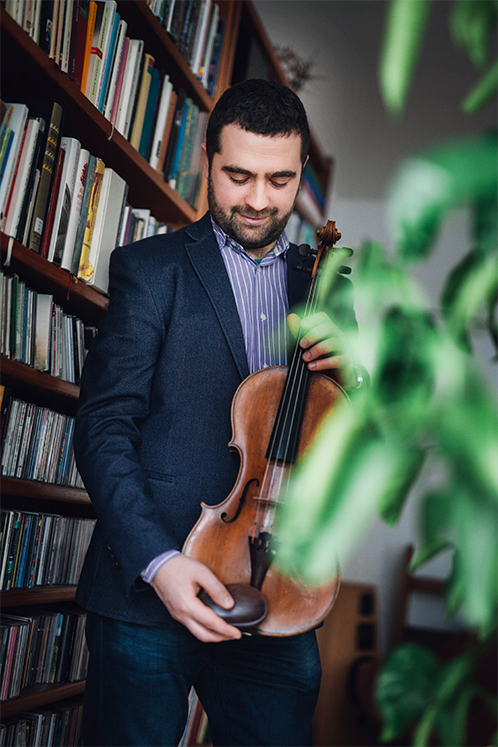 Andrei Harabagiu began his musical studies in the Republic of Moldova at the "C. Porumbescu" Music High School in Chisinau with professor Tamara Kaftanat. He then pursued his basic studies at the Conservatory "G. Verdi "in Milan with Daniele Gay (violin) and Claudio Pavolini (viola). At the Music School in Fiesole, Italy, he was educated in chamber music/string quartet playing in the class of Piero Farulli and Andrea Nannoni. He settled in Switzerland in 2011 and holds a Master of Arts in Music Pedagogy as well as a Master of Arts in Performance from the Hochschule für Musik Basel, FHNW, studying with Rainer Schmidt and Silvia Simionescu.
Andrei is a prize winner in several national and international competitions as a soloist and a chamber music player, such as the competition of "Val Tidone" Pianello Val Tidone (Italy); "Laura Cremonesi" Milan (Italy) "Paul Costantinescu" Ploiesti (Romania). He is the founder of the "Indaco" String Quartet, Milan (Italy), which received an award at the "Premio Borciani" competition in Reggio Emilia in 2017.
As a soloist, Andrei debuted with the National Philharmonic Orchestra in Chisinau and appeared with the Basel Symphony Orchestra with Rudolf Kelterborn's Concert for Viola and Orchestra. He is a welcome guest to chamber music festivals such as the "Festival dei Due Mondi" Spoleto (Italy), Cully Classic Cully (Switzerland), "Sighisoara Academy" Sighisoara (Romania), "Aosta Classica Festival "and" Podiumfestival "(Germany), " Festival della Creatività "Florence (Italy) as well as the "HighScore Festival ", Pavia (Italy).
As a member of the Amaranth Trio Basel he was on tour in Armenia. Furthermore, he played several concerts with the Indigo quartet in Italy, UK, Sweden, Ireland, Austria, Germany. In 2010, he was a member of the contemporary music ensemble academy of the "La Scala" in Milan.
Nowadays, Andrei is frequently performing with various chamber ensembles, receiving invitations to participate in concerts in Switzerland, Germany and Italy.
Through his experience, Andrei increasingly focuses on pedagogical activity. He regularly teaches as a substitute at the Aarau and Basel music school. From 2011 to 2016, he was a tutor for the chamber music courses at the Hochschule für Musik Basel, FHNW. In addition, he is teaching at the Aarau Chamber Music Hall (Switzerland) on a regular basis.
Currently, Andrei is a member of Arriaga Quartett.